With Online Personal Training we give you all the resources you need, but just aren't physically there in person training you. Your workout program and meal plan are uploaded to our smartphone app and web-app platform, and we monitor and coach you through your program remotely. Within the app you can record your weights and reps of each exercise, progress photos, measurements, view specific exercise videos, and more.
Online Personal Training is a new but extremely powerful tool. It allows us to provide our clients with on-going support, guidance, and accountability, but allow our clients to capitalize on convenience, flexibility, and affordability. We've been using this service now for 2 years and we have a few different variations of Online Personal Training:
1-on-1: work 1-on-1 with one of our trainers; see types of plans below.
Hybrid (In-Person + Online Personal Training): great for those that want some hands on and In-Person training, but still want to either: be a little more independent, need flexibility as to when and where they can workout, as well make their allocated budget last longer.
Group Training: have a group of people with similar fitness goals? Do a similar program together, as a group. This will keep you all more accountable, make it fun, and it will save money too; see the section below for examples of groups we've done before; It's the sweet spot between cost, personalization, and social motivation.
See more information on each type below.
1.  Pick what you need help with:
Customized Workout Program: Cost will depend on complexity of the program. We charge $44.99 / hr, most Programs take 2 hours.

Aren't there free workout programs online? Yes, but they are templated programs and not customized – we have some you can do right here. To answer this questions more thoroughly, see the FAQ's at the bottom of the page.

"Not Your Typical" Meal Plan: $99.99
2.  Pick the type of training (1-on-1, Hybrid, or Group) and the Plan that fits your needs.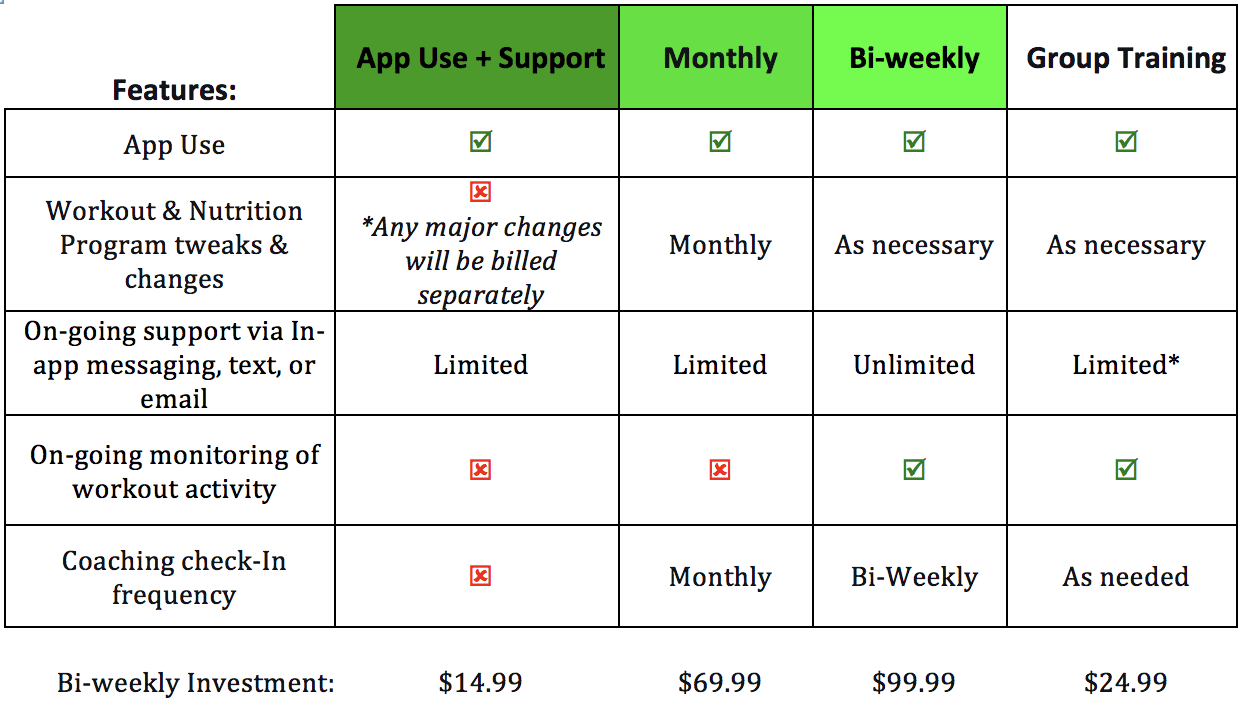 App Use: have access to your workouts and do them "live" and record reps and weights used for different exercises; or simply look at the workouts and use them as a visual reference. You can also view videos of how to do the different exercises in the workouts, look at past history of weights used for any given exercise, and you can add body stats (weight, measurements) and photos to help evaluate your progress – all in one convenient place.
On-going Workout & Nutrition Program Tweaks & Changes: Get continued changes to your workout program and meal plans, or brand new ones altogether – we usually change your workout program every 6-8 weeks. Travelling and need a workout specific to where you are, e.g Hotel gym? No worries we'll make you a workout to do there.
On-going support via In-app Messaging, Text, or Email: Contact us about any question you may have and we'll be there to help. At a restaurant and don't know what to eat? Don't know what to eat before or after a workout? Shoot us a message and we'll be happy to help.
Limited: Depending on nature of the response needed, we will respond anywhere from 48hrs to 72 hrs.
Limited*: with the Group Training plan, you are part of a group activity and communication forum. You can ask questions and message within this forum, or you also have the option to message your trainer privately.
Unlimited: We will respond anywhere from immediately, up to 24 hrs.
On-Going Monitoring of Workout Activity: we will check-in on you before our next scheduled check-in (which varies for different plans) and monitor your workout and food logging activity; we'll give you a friendly reminder to get back on track if your calender is empty. This is another level of accountability and helps keep many people motivated since they know someone is "watching" to make sure you are doing your workouts.
Check-in's: This is our "coaching" time where we review your progress, typically we schedule bi-weekly phone calls (phone or skype), or whatever communication medium is effective; for local clients (Edmonton & Sherwood Park) this can often mean meeting up at a coffee shop, your house, or at a gym – this wouldn't be a typical In-Person Session however.
Group Activity and Communication Forum: With Group Training everyone is in a activity and communication group (see video). Within this forum: we regular post links to helpful resources, users workout activities are shown (this can be sometimes just the motivation you need), we are available to answer any questions along the way, group members can interact and help motivate each other, and we can set up regular conference video chats within the app.
Those that are the most successful have our on-going support along the way. With the Monthly and Bi-Weekly plans you have regular check-ins where we assess what's working and what's not, and tweak things as necessary moving forward. Also, we are giving you on-going, new, workout programs as part of this pricing.
Or with the App Use + Support plan you can do it by yourself and just have us there for support to ask any questions, or small tweaks along the way – this is the type of support we offer for our FREE Workout Programs.
Group Online Personal Training is the sweet spot between cost, personalization, and social motivation. Here are some examples of specific groups that we've worked with in the past:
Groomsman and bridesmaids wedding parties getting ready for the big day.
Corporate Fitness Programs and weight loss challenges for small-to-medium sized companies.
Sports Teams; a set workout program is put on the app for all team members to use.
*It will ask you for your Credit Card information, but it's just a formality – don't worry, nothing will be charged – when you fill it out, or later on (like some places that say this and then you need to cancel later to prevent a payment from coming out). We Promise.
*Got questions first? Free free to Contact Us first and we'd be happy to answer any questions you have.
There are a lot of free workout programs online, why should I pay for one?
Well, like we mentioned above we have some really good
FREE ones
that you can do if you'd like. But, really what you're paying for is:
Customization. This is critical. With any workout program you get off the web (including our FREE workout programs), ask yourself: Are these workouts custom tailored to you and your goals, as well as your environment (home gym, commercial gym)? Probably not. With Online Personal Training you get that, a customized workout program that is tailored for you. We take out the guess work of: what should I do, and when should I do it?
Also, Skimming through all of the different free workout programs can take time. Time = money.
What If I don't want to use the Smartphone or Tablet app?
You don't have to, you can access everything from the web: www.overhaulfitness.trainerize.com/ and log everything there or simply print the workouts there as well.
What If I want to cancel? Are there any fees?
If you want to cancel, simply give us notice via email or direct message through the app and we will cancel your account.